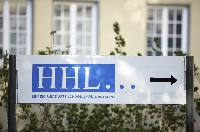 Get to know HHL, one of Germany's leading business schools!
Meet us in Moscow on Thursday, March 3, 2011, from 5 pm until 9 pm at the next fair of the World MBA Tour, which takes place at the Radisson SAS Slavyanskaya Hotel, Europe Square 2.
During the fair, our Student Recruiter Ms. Margarita Setska will explain HHL's MBA Program to you. Additionally, HHL alumni will be glad to answer your questions and will give you detailed information on the program, career opportunities and student life at HHL.
Information and registration: http://www.topmba.com/mba-tour/moscow
Contact: margarita.setska@hhl.de
***About the Master Program in General Management (MBA) at HHL – Leipzig Graduate School of Management
The full-time MBA in General Management, which is fully conducted in English, was successfully accredited by AACSB (2004, 2009) and ACQUIN (2009). Appearing for the first time in the Financial Times' "European Business Schools" ranking, HHL's full-time program was rated top in Germany and a thoroughly respectable 34th place in Europe in the 2009 table, ahead of a number of renowned business schools. In its most prestigious ranking the Latin American business magazine AméricaEconomía puts HHL in 36th position – a leap of 10 places compared to the 2009 ranking. HHL's highly international full-time MBA Program combines a leadership focus with global experience. It is designed to sharpen the student's interpersonal and analytical skills while deeply immersing them in general management. More information: www.hhl.de/mba
***About HHL – Leipzig Graduate School of Management
HHL – Leipzig Graduate School of Management was founded in 1898 as Germany's first business school. It was re-established in 1992 as a private, state-approved institution with university status, i.e. it may grant doctoral and habilitation degrees. Today it is considered one of the leading business schools. In addition to its international focus, the synthesis of theory and practice is central at HHL. Furthermore, HHL has set itself the goal to educate effective and responsible business leaders through its "Integrated Management" approach. HHL offers a 12 to 18-month full-time (24-month part-time) MBA Program for professionals. In addition, HHL has an 18-month full-time (24-month part-time) Master's program in Management leading to the degree of Master of Science (M.Sc.). A three-year doctoral program, which can also be completed by professionals with the appropriate qualifications, tops off HHL's portfolio of degree programs. HHL's subsidiary HHL Executive GmbH offers company-specific and open enrollment executive education. In April 2004 HHL received the highly-respected accreditation by AACSB International. The maintenance of accreditation for a further five years was granted in April 2009. More information: www.hhl.de
More information:
http://www.topmba.com/mba-tour/moscow
http://www.hhl.de/mba
http://www.hhl.de
Handelshochschule Leipzig gGmbH
Volker Stößel
Jahnallee 59
04109 Leipzig
Deutschland
E-Mail: volker.stoessel@hhl.de
Homepage: http://www.hhl.de
Telefon: 0341-9851-614